AROUND VICTORIA BC
Victoria BC is a beautiful city on the southern tip of Vancouver Island and is frequently referred to as "Greater Victoria". It is the largest city on the island. Population of the Greater Victoria area is about 360,000.
Victoria has the mildest winter weather in all of Canada and has what is described as a "Mediterranean climate". Winter temperatures fall just a few degrees below freezing on occasion and rainfall is much less than the West Coast of Vancouver Island or Vancouver. Summer months are pleasantly warm with very little precipitation. Victoria is referred to as the "Garden City" due to its many parks and green spaces. You can see flowers in bloom every day of the year.

Victoria is made up of 13 municipalities and some similar areas, all culturally unique. The Victoria Real Estate Board (VREB) contains all the real estate listings for Greater Victoria. The VREB has divided Greater Victoria into 5 main regions and then has further divided them into districts which approximately match the municipalities.
Victoria Core - includes Victoria, Vic West, Oak Bay, Esquimalt, View Royal, Saanich East and Saanich West

Saanich Peninsula - includes Central Saanich, North Saanich and Sidney

West Shore - includes Highland, Colwood, Langford, Metchosin and Sooke and undeveloped areas to the west and north

Malahat

Southern Gulf Islands
See the map below for an overall view of these areas and click on the buttons to the left for a few more details on some of the major areas. You will find more details on the individual neighbourhood boundaries as you investigate these major areas.
Note that the Capital Regional District (CRD), similar to a county, approximately covers the Greater Victoria area and administers many aspects of public administration for the whole metro region. Investigate the link to the CRD for more information.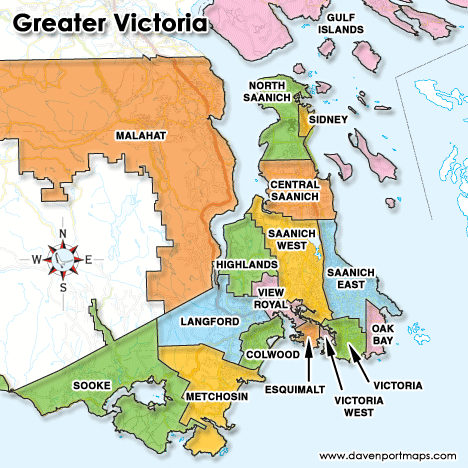 If you are in the market to buy, sell or lease property you will find the Greater Victoria area offers a diverse range of neighbourhoods and properties to suit every taste and budget. Regardless of where you choose to live in the Victoria area, be sure to contact The Lynn Team REALTORS® Dave Lynn and Tara Lynn to look after your needs.